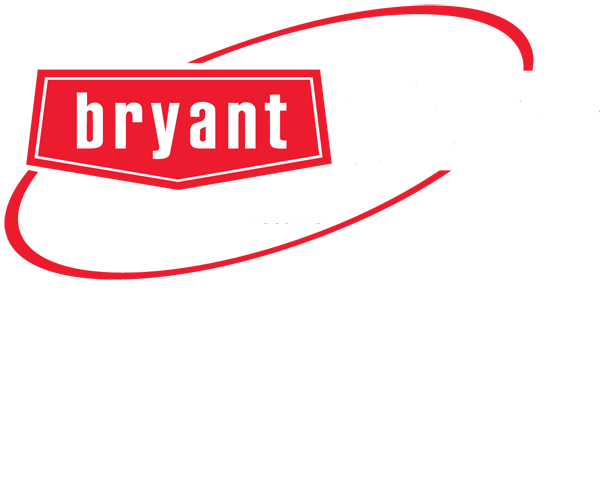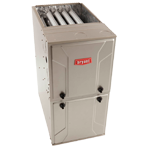 Today's new high efficiency furnaces can save up to 50% in operating costs over a ten-year-old furnace. Many 1990 and earlier model furnaces have Annual Fuel Utilization Efficiency (AFUE) ratings of 65% or less. The minimum AFUE rated furnace that can be sold in the United States today is 80%.
Our current product offering starts at 80% AFUE and goes all the way to a very efficient 96.6% AFUE rating. Depending on your average usage, higher AFUE rated furnaces can significantly reduce your gas bill.
We offer many furnaces with variable and multi-speed features that can provide enhanced indoor comfort by slowly ramping up to your thermostat setting rather than simply turning on at full speed. This alleviates the "cold air blow" often associated with single speed furnaces, and dramatically reduces system noise.
Gas Furnace Product Offering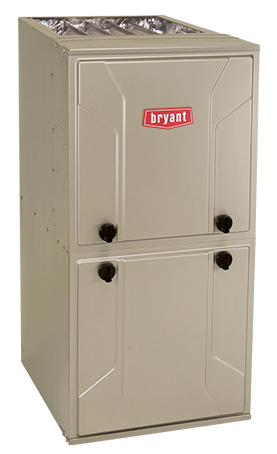 Evolution® Series 98.3% Gas Furnace
View Brochure
Model Family: 987M
Annual Fuel Utilization Efficiency: Up to 98.3% AFUE
Energy Star Rated: ENERGY STAR®
Blower Motor: Variable-speed full-featured ECM
Gas Valve: Modulating
Fan Heating Operation: Four speeds of continuous fan operation with a compatible control
Factory Warranty Parts: 10-year parts limited warranty upon registration
Heat Exchanger Warranty: Lifetime limited warranty; Red ShieldTM 10-year unit replacement warranty (heat exchanger failure only) upon timely registration.
Sound Level: Quiet operation
Manufacturer's Stated Benefits:
Variable-speed blower allows unit to operate at lower speeds up to 90% of the time, ensuring consistent airflow and temperature.
Perfect Heat™ technology monitors changing conditions to adjust heating
Perfect Humidity™technology removes up to 127% more moisture than a standard furnace
Fan On Plus™ technology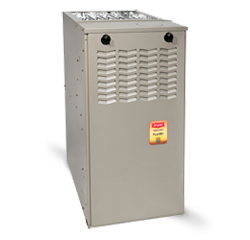 Evolution™ 80 Variable-Speed Ultra-Low NOx Gas Furnace
View Brochure
Model Family: 830CA
Annual Fuel Utilization Efficiency: 80% AFUE
Energy Star Rated: N/A
Blower Motor: Variable speed, constant airflow (VCA) ECM
Gas Valve: Single Stage
Fan Heating Operation: Continuous fan operation with a compatible control
Factory Warranty Parts: 10-Year Parts Limited Warranty
Heat Exchanger Warranty: Lifetime heat exchanger limited warranty
Sound Level: Quiet operation
Manufacturer's Stated Benefits:
Quiet performance and even-temperature comfort from variable-speed air delivery
Perfect Humidity® technology aids with summertime cooling dehumidification
Fan On Plus™ technology lets you choose the speed of continuous fan operation with a compatible control
Insulated cabinet for quieter operation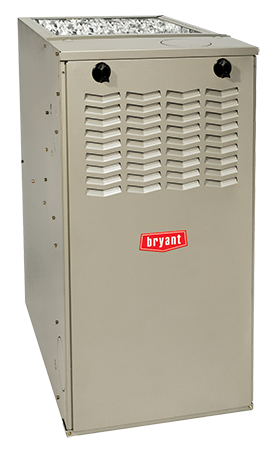 Legacy™Line 80% Gas Furnace (Ultra-Low NOx)
View Brochure
Model Family: 830SA
Annual Fuel Utilization Efficiency: 80% AFUE
Energy Star Rated: N/A
Blower Motor: Multi-speed ECM blower
Gas Valve: Single-stage
Fan Heating Operation: Multi-speed
Factory Warranty Parts: 10-year parts limited warranty upon registration
Heat Exchanger Warranty: 20-year limited warranty on heat exchanger
Sound Level: Quiet operation
Manufacturer's Stated Benefits:
Ultra-low NOx model
Insulated cabinet for quieter operation
4-way multipoise
Galvanized steel
Baked-on urethane base coat and polyester top coat